I'm sensitive to only a pinpoint and there's a few reasons for that…
I work in nursing part time, plus I have a son and family who depend on me 24/7. I have to take care of them and do what I can for them… in other words, I play the submissive one in these roles, as I have responsibilities to uphold. I have to compromise and be almost completely subdued and submerged inside the reality of my other life.
FinDom, as I know it, see it, FEEL it and THINK it, is my ONLY outlet into this lifestyle and "business/work", to be able to relieve the pressure of day to day life; to let off steam, if you will.
This is a necessity for me; NOT so much because of the money, but for both power and control. To feel as though I have ALL the say, no matter what circumstance may present.
I need to be able to "Play The Game" just the way I want it. Yes, I view it as a game; some would say that, for them it isn't a game… well in actual fact it IS.
It's a game which requires a certain strategical element to play, for both Domme and sub. In such a way that it creates the unforeseeable bond between the two parties it involves.
I, much of the time, have a black heart, which presents itself in such a manner that can knock them off their pity pedestal to realize their role in the relationship.
It is of the utmost importance to know who the teacher is and the boss, and I am graced with this very spirited way.
In saying that, I do realize subs and Dommes have certain needs and would dive down to their every whim, just to acquire what they wish to achieve. If both individuals are equal or equivalent to where they see the relationship, then and only then, will the goal become accomplished….
It's a game. A game, which on its own merit can be beaten if the cards are played in the right way. If it's not played by the order it needs to, it can turn into a game of Russian Roulette, turning out badly for either one or both parties.
LET'S PLAY!!
Share It!
Want permission to cum NOW? Visit my NF page for that!

Want to talk about it? Click here:
Are you ready to make the ultimate sacrifice? --------->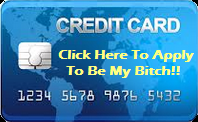 Money slaves should tribute a donation through the bottom right side widget --------->
Not into my findom or femdom stuff? See other fetish sites
here
and
vote for me
too!
© 2013-17 MistressBellaFinDom.com