Posted by MissBella on September 29, 2016
bsdm
,
Confessions
,
Consensual Blackmail
,
cum denial
,
femdom
,
financial domination
,
findom
,
humiliation
,
money pig
,
money slave tributes
,
money slaves
,
moneyslave
,
paypig
,
strict task mistress
,
task mistress
,
wallet rape
,
WebCam Sessions
For the longest time I have yearned to be back on the saddle of Financial Domination, and now here I am. Back with a vengeance.
Over the last couple of days, I have been clearing through thousands of emails from not just notifications, but from all of you sap sucking money slaves hoping to catch a break from your pathetic little lives. Unfortunately, due to my absence, they had gone unanswered and unseen for many many months.
For those who have written me by either applying or being owned by me at the time, I have FINALLY written you back, not all of you… yet. I appreciate the emails from peasants who have asked about my well-being, and just so you know, I'm fine.
I had family sickness, and had to care for two important family members, and thanks to team work, my Grandfather was able to die at home peacefully from a battle with cancer, and my Grandmother still needs assistance but she's holding her own.
Now… to get on with things…
I'm slowly getting back into FinDom by clearing through many emails, logging into my Mistress Bella accounts to blow the dust off of them, and get things up and running again.
I have many stories that need to be updated. Ones from before I took leave, and believe me… they'll be worth the wait.
There are also a couple of NEW PROJECTS I'm taking on. I am starting another website (name to be announced later) for the ass wipes who want to be part of a membership to see me LIVE on WEBCAM!!! Also, I'm going to be the main fetish model for LiveFootCams.com, which will also have video content from not just myself, but a couple of others we had bought the license to.
So…
Stay tuned motherfuckers. It's going to be a ride and a half. I look forward to reading future slave applications and I will continue to relish in the money slaves I already have.
Don't be a fucking pussy!
Apply!!
Share It!
Want permission to cum NOW? Visit my NF page for that!

Want to talk about it? Click here:
Are you ready to make the ultimate sacrifice? --------->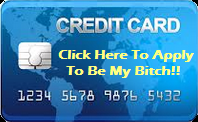 Money slaves should tribute a donation through the bottom right side widget --------->
Not into my findom or femdom stuff? See other fetish sites
here
and
vote for me
too!
© 2013-17 MistressBellaFinDom.com