JUNE 29TH, 2013
Ok. The part that you didn't see is the first intial converstion between this idiot and myself concerning a WebCam Session.
When someone approaches me on Skype, the FIRST and MOST IMPORTANT thing I do, is provide them with a link to this site. This way the mutts can look over it, read it, then decide what they want… If anything…
This fucking cheap chastized little cunt refused to comply with those SIMPLE INSTRUCTIONS… This RETARD seems to have difficultly with understanding what a "Slave" actually is. The behavior actually speaks for itself really. Check out this pathetic waste of space…
Read, and come up with your own conclusions….

AUGUST 25th, 2013
Holy shit!!
You see how funny and stupid people like this can be… THIS GUY must have such a lengthly list of Mistresses that he can't even keep them straight in his fucking head!
So yeah, anyway…
This fucking idiot approaches me on Skype wanting a service of a webcam session. We began to discuss payment, and I told him he's been on the site before… HE DID NOT REMEMBER ME!!!!
I advised him to go to my site, and also told him that he would remember me once he got there…. LMAO!!! I saved the conversation for you're reading pleasure.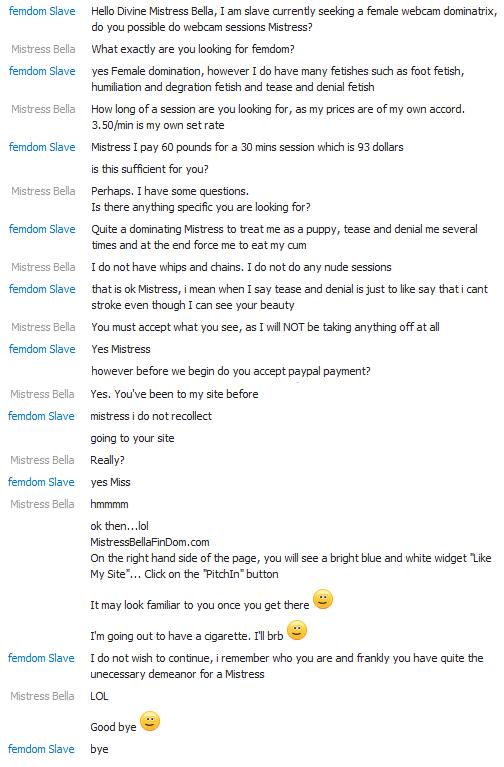 So really?? It's like this moron's…
Keep in mind who you've already had dealings you fucktard! C'mon! Are you that much of a Mistress man whore, that you can't keep them straight? Here's a suggestion to those that seem to be having troubles with Mistresses their NOT compatible with… Hmmmm… Let's see now…
OH!! I KNOW!!!
Why don't you just fucking delete them off your list and block them or something! Really?! Just fucking pathetic! Just fucking pathetic!
I won't delete you because YOU ARE AMUSING!!!
Share It!
Want permission to cum NOW? Visit my NF page for that!

Want to talk about it? Click here:
Are you ready to make the ultimate sacrifice? --------->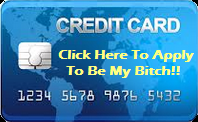 Money slaves should tribute a donation through the bottom right side widget --------->
Not into my findom or femdom stuff? See other fetish sites
here
and
vote for me
too!
© 2013-17 MistressBellaFinDom.com