Yet again, to no avail…
The pathetic pompous asses that lurk in the shadows of the internet think they can go unnoticed, without even the fresh aromatic scent of fear… THINK AGAIN YOU SWEATY POOLS OF STENCH!!
All I did was, sit in front of my computer… drink my delightful cup of coffee, while checking my email. I couldn't help but notice a slight smell… It wasn't coming from any direction really, and I did shower… So I knew it wasn't coming from me… But then I notice the smell was coming from my laptop.
This musty, moldy smell was like rotted cottage cheese, sitting in the attic…It became stronger and stronger, then finally the speck of penicillin popped up on my Yahoo.
The name was Petey.
After the pathetic pleading and the right exchanges were made. I seen his picture… I knew THAT was where the smell was coming from. HE was the root of this stench, as he admitted to me it was over a week and a half since he last showered and he explained he loved being dirty. He enjoyed sitting in his own filth, and muck……..
This is where the Financial Domme/Slave relationship began.
It's kinda like… You know… When you finally get the chance to say the things you have held back all your life, and you're grabbing at the opportunity to bring forth the wrath; making it fall down upon him; just to make yourself feel better?? I suppose it would be like projectile vomit coming out of your mouth and nose hitting the floor violently, or perhaps the diarrhea that is slowly running down your leg, building up unbearable pressure behind your rectum; forcefully splashing the water as it hits the toilet…
Ya… THAT kind of relationship!
Read below for our first 3 sessions. Subsequent sessions are linked to at the end of this post. Enjoy maggots!!
**********************************************************
FIRST THREE SESSIONS!
August 26th, 2013
Petey, the worthless scum bag contacted me on Yahoo…He begged me desperately to humiliate him, and he wanted to be my pathetic little pig. The more we chatted, the more I got to know about his fetishes. He told me that he loved dominating, sassy, greedy Mistresses, and exclaimed he want to be my stupid loser pig.
Immediately I went to work. His begging was quite frankly getting on my nerves, and I was in the mood to test this fucking pig! I quickly advised him to prove his worth with a tribute. I provided all information to do so. He did not hesitate!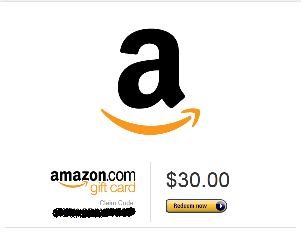 When I first seen this amount I was disappointed, as I thought my time was worth more than this… However I was in the mood to really fucking play with this moron… Plus… You never know how it could work out… Right?
I assigned him his first task.
It was a simple one, as he was to tape his big mouth shut tightly, with my name written on his worthless face! This pompus ass agreed to have his pictures on my site, as long as I could pretty him up like a little bitch! Once I seen the picture I dubbed him as Petey The Pathetic Piglet.
Just by looking at this picture, you fuck ups would even have to agree that he is a FUCKING STUPID RUNT!!! Look at it!! His fucking nostrils are large enough to inhale you!! He'd be able to smell anything from ten miles away for fucksakes!!
The fucking loser is such a greenhorn, that he didn't ask my permission to take the tape off… Inconsiderate fuckin' bastard! What kind of moronic slave does that anyway? The slaves should automatically know these fucking things, shouldn't they?? UGH!!! So, due to his incompetence, and ignorance I made him video himself being on all fours squealling like a fucking pig! He was quick to get to the task. Once I got the video, I honestly thought it was of a fucking pig dying for crying out loud! I'll try to put little clip bits on here later… But trust me… IT'S HORRIBLY BAD to the point of which I couldn't stop listening and laughing.
I ended the session shortly thereafter, as it was getting late, and I had to get up the next morning early. I advised him that I would have another assignment for him the next night. Advised him to follow me on Twitter as well…
August 27th, 2013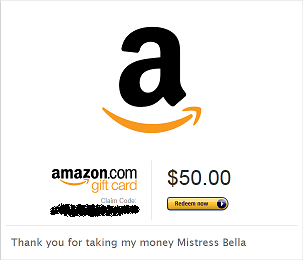 When I signed on to Yahoo, I seen he had sent me a message offline, begging for more and more and more… I smiled to myself thinking he'd have to pay another tribute, and do more assignments. We talked for a short period of time much later in the evening, and to my surprise he didn't follow me on Twitter… FUCKTARD!!! C'mon now idiot! Get with the fucking program!! (Speaking of which… I need to check that again…) This did not impress me, so I made him pay tribute before going any further.
I noticed the wench had a hairy chest, so I ordered him to duct tape his chest all up, and to leave it like that for a while because the body heat would make the tape adhere much better to the hair… I commanded him to take a picture of this and send it to me, as I need proof of him performing the tasks ordered.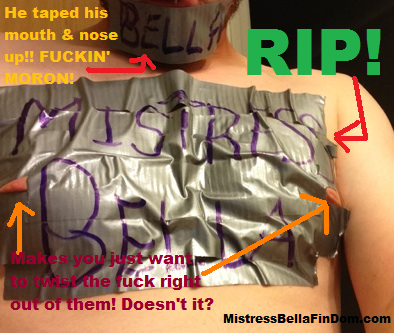 Once I recieved this I let him stay in it for a while. The he was to video the removal of this fine, stick duct tape. He sent it to me, and while I viewed it, I laughed really fuckin hard because he was SQUEELING like a pig again!! OH MY GOD!!! I mean really??!! It was so loud, it's a wonder that his neighbours didn't hear him! Here's a screenshot of the video…. Baaahahahaaaa!!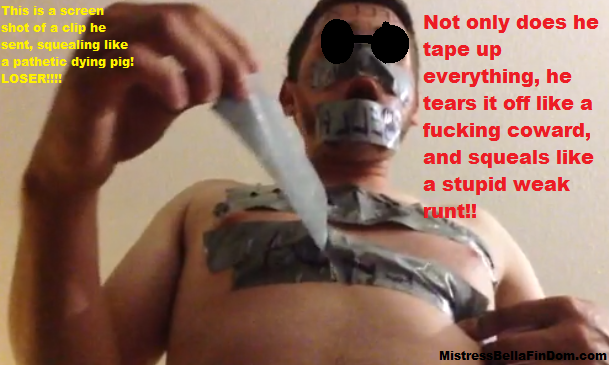 WHAT A FUCKING TOOL!!!! I mean… WHO DOES THIS SHIT ANYWAYS!!??
He begged for the chance to cum… But I told him to get my permission would cost him more dollars… I had plans for him the next night (28th) which would require some play anyway… I told him to tape up is puny prick so there would be no chance of him wanking on it through the night.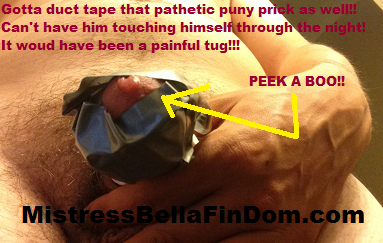 He was to leave this on until our next session the next night (24hrs). I allowed him a hole to piss through. The other assignment given was he was to write a journal entry…
August 28th, 2013
These were his thoughts :
Hi Mistress Bella
Hope to find you well. I am writing you this letter upon your request. I am your bitch loser aka Petey the pig. All I thought about at work today was how will she humiliate me

tonight

. I know it's gonna be good but I still sweat with anticipation. I'm hoping I can please you

tonight

as I think it would help my chances of being allowed to cum.
My dick has been on a puppet string lately attached to you. It comes up at your every command Mistress Bella. It gets so hard when I'm taking pictures of my loser self it hurts. I want my mind to give in to your every whim. I wanna dream about humiliating myself for you Mistress Bella.
I Live only to serve you Mistress Bella. I wish to be your weakest dirtiest most pathetic little squeeling runt please I beg you. I'm lower than scum.please treat me for what I am please Mistress Bella. I wanna be your weak little runt.
Later on that night, he was ordered to send a picture confirming the duct tape was still intact, and I commanded him to stuff the sock that he wore at work all day, in his mouth and to tape it shut. The main assignment was a timing game. He had 4 minutes (length of clip) to cum, from start to finish. He seemed to be up for the challenge…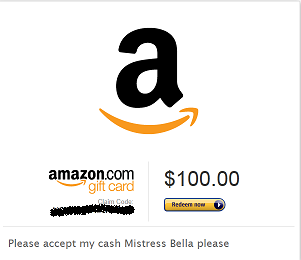 He sent the pictures before we began, and shoved the sock into his big flapping mouth. The way he had the duct tape on his face was fucking ridiculous, but I suppose it did the trick… It made him look like the bastard he really is…
The Cam session started with him removing the duct tape he applied to his shrivelled up cock… Keep in mind the loser kept it on there for OVER 24hrs! It was really difficult for him to get off… And to my surprise, he had taped it up good, with LOTS of tape. I was shocked to see he was able to put that much tape on his pathetically sized pippy!!
Once the duct tape was FINALLY off, I reminded him that he only had from the time the clip started until it ended to jerk himself off (4 minutes). I wanted him to obey anything that was said in the clip. If it required him to lick my feet, I expected him to strain, then nuzzle up to the screen, as he had a sock stuffed and taped in his yap.
Petey The Pathetic Piglet took this mission in great stride. I could hear my dominating voice in the clip, and I could hear him wanking on his miniscule fucking prick with all his might. He kept looking back and forth, from the clip to my face watching his every move, while I laughed and clapped my hands. The sight before my eyes was quite humerous and entertaining to say the least, but next thing he knew the clip was over and to no avail… HE FAILED HIS MISSION!!! That's pathetic…
I can easily masturbate SUCCESSFULLY within that time frame NO PROBLEM. When I spank it in public, it only take me 30 fuckin' seconds for cryin' out loud!!! FUCK!!!
The fucking stupid loser proceeds to turn the camera directly to his dick, and had the
NERVE
to continue spanking it!! I immediately haulted any more movement from him at all! He did as he was commanded, and started to beg and plead for my permission to blow his scum load…
I ORDERED THE FUCKING IDIOT TO PAY ANOTHER $20.00! HE HAD TO PAY TO CONTINUE TO PLAY!!!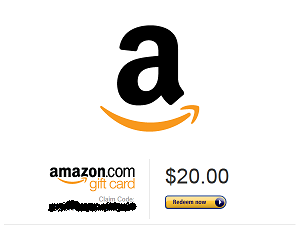 The sorry dumbass pulled on his cock like he never did before. I ordered him to watch my clip again with the SAME TIME LIMIT!!
THIS TIME HE FINALLY WAS ABLE TO CUM HIS SCUM LOAD EVERYWHERE!!
He kept thanking me over and over again…
I finally had enough and ordered him to take the sock out of his mouth, as he had it stuffed in there for
over 2 hours
… He slowly took the bottom piece of duct tape away from his mouth, and started pulling it out. Inch by inch, the sock kept coming… How long was this fucking sock!! The moron had a sick smile on his face that made me just want to vomit all over my laptop…
Ewweeee!!!
Click on the video to watch a short excerpt of him being my sock slave…

Loading the player…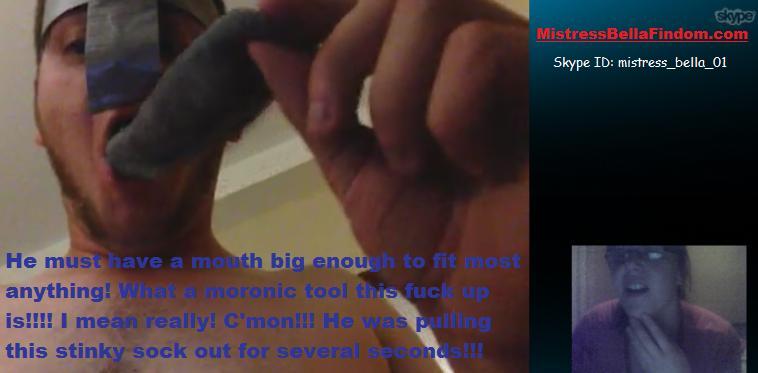 C'MON NOW PEOPLE!! YOU WOULD HAVE TO ADMIT, THAT THIS FUCKIN' LOSER IS IN FACT A TOOL!! DO YOU NOT SEE THE LENGTH OF THIS SOCK??
DAMN!!
I CAN'T WAIT TO DO THIS AGAIN!!!
If you're looking for a greedy bitch I will GLADLY RAPE YOUR WALLET!!
CLICK HERE to read all about the next session I had with this runt! It's FUCKIN' hilarious!!
Share It!
Want permission to cum NOW? Visit my NF page for that!

Want to talk about it? Click here:
Are you ready to make the ultimate sacrifice? --------->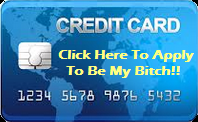 Money slaves should tribute a donation through the bottom right side widget --------->
Not into my findom or femdom stuff? See other fetish sites
here
and
vote for me
too!
© 2013-17 MistressBellaFinDom.com